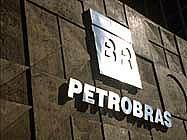 Petrobras announces that oil production in the fields operated by the company, at the Pre-Salt Layer of the Santos and Campos basins passed the milestone of 470 thousand barrels of oil per day (bpd) on May 11th, which is a new daily production record.
This production level was achieved from 24 wells, nine of which are in the Santos Basin. Thus, the average productivity per well from the Santos Basin's Pre-Salt Layer reached 28 thousand bpd, representing an increase of almost 30% compared with February 2013, when the daily production record reached 300 thousand bpd.
This result is largely due to the start-up of well 7-LL-22D-RJS on May 9th. This well, with a currently flow of 31 thousand bpd, is connected to the FPSO Cidade de Paraty, located in the Lula field, through a Buoyancy Supported Riser (BSR). Using this pioneering technology, the ascending production pipeline is suspended from a submerged buoy. This is the third well connected using BSR technology and the first connected to the FPSO Cidade de Paraty.