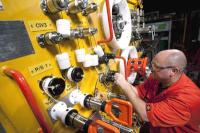 Proserv has secured a major contract win worth in excess of $20 million, underpinning the company's fast-evolving international footprint and market-leading status in the subsea arena.
This latest award by Hess Corporation is for the provision of a 12-well subsea control system along with associated topside and subsea interface equipment for the deepwater Stampede development, situated in the Gulf of Mexico.
Work for the project will be carried out in various Proserv subsea service centres and technology hubs around the world, reinforcing the company's strong inter-regional capability.
The design and manufacture of the subsea electronics modules (SEMs) and subsea control modules (SCMs) will be carried out by Proserv's team of subsea experts in Great Yarmouth, UK, with Proserv's Trondheim facility in Norway providing technical support. Final testing, servicing and the integration of equipment will be carried out at Proserv's new dedicated controls facility in Houston, USA.