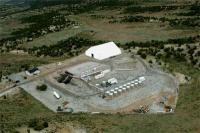 Questerre Energy Corporation has closed its equity offering previously announced on November 20, 2013.
The offering consisted of the issuance of 23,494,753 common shares of the Company ("Common Shares") at an issue price of NOK 7.40 or C$1.28 per Common Share for gross proceeds of approximately NOK 174 million or approximately C$30 million. There are currently 258,792,291 Common Shares issued and outstanding.
The Common Shares are currently tradable on Oslo Børs (OSE). The Common Shares issued are subject to certain resale restrictions in Canada and cannot be traded in Canada or to the benefit of a Canadian resident for four months and a day from the distribution date. The transaction was completed in reliance on exemptions from the EU Prospectus Directive (Directive 2003/71 EC as amended by Directive 2010/73 EU) and the new Common Shares are listed without application to the OSE from the date of registration in the VPS.