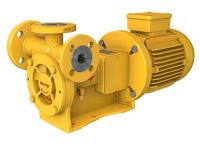 Ebsray® Pumps Pty. Ltd., part of PSG®, a Dover company and designer and manufacturer of regenerative turbine and positive displacement pump technologies, has announced the availability of its new RC40 Series Regenerative Turbine Pump for liquefied gas applications, including LPG, Autogas, DME, aerosols, industrial refrigerants and liquid CO2.
Developed as a replacement for the Ebsray R10 model, the new RC40 pump features increased flow rates and features important new design enhancements. The pumps offer exceptional reliability, even under extremely low NPSH operating conditions and possess the ability to handle entrained vapors without loss of efficiency or internal damage. The close-coupled flange design of the RC40 mounts to both 50 Hz and 60 Hz (NEMA and IEC) electric motors while the unique 3-ported design with two discharge ports provides installation flexibility for lower installed cost. In addition, the RC40 optimises its class-leading performance and efficiency by using one motor size less than it's leading competitors.
RC40 pumps have bronze impellers, ductile-iron casings and high-tensile alloy-steel shafts. The pump features a maximum differential pressure to 14 bar (200 psi) and maximum flow rates are 200 L/min (52.8 gpm) with motor speeds up to 3,500 rpm. RC40 pumps also feature multiple flange port options in one body design: ANSI, DIN and NPT. Cartridge design mechanical seals and bearings are interchangeable with RC20 and RC25 models. RC40 pumps comply with ATEX and AS1596 codes with UL51 certification in progress.