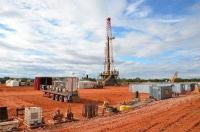 Cooper Basin focused oil & gas exploration company Real Energy Corporation Limited advises that completion and testing operations recently commenced on its maiden wells, Tamarama-1 and Queenscliff-1, located in the Cooper Basin.
The Company plans to complete and test several zones in each well, covering both the Patchawarra and Toolachee formations. At this stage, in Tamarama-1 the Patchawarra Formation has been perforated and tested, however the Toolachee formation is yet to be perforated and tested. Real Energy has not yet perforated any zones in Queenscliff-1, but is expected to move the workover rig to the site as soon as the ground conditions allow.
Real Energy provides the following information regarding its completion and testing program in ATP927P:
Tamarama-1: The well was completed and perforated over the lower and upper Patchawarra Formation sections.