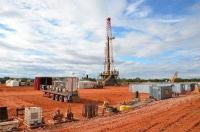 Cooper Basin focused oil & gas exploration company Real Energy Corp. Ltd. provided details of its independent estimates of contingent gas resources and upgrade its unconventional prospective gas estimates at its Cooper Basin Permit, ATP927P in southwest Queensland, Australia.
The resource upgrade follows the successful drilling and testing program undertaken by the company during the 2015 financial year, with the prospective OGIP resources for ATP927P effectively increasing by more than 141 percent to 13.761 trillion cubic feet (Tcf) (13,761 billion cubic feet or Bcf) from pre-drilled estimates of 5.7 Tcf.
The estimates of contingent gas resources and unconventional prospective gas resources in ATP927P have been independently certified by DeGolyer and MacNaughton, a leading international petroleum industry consulting firm.