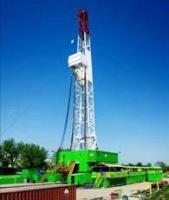 Red Emperor Resources NL provides the following update with respect to the drilling of the Hawkeye-1 exploration well, offshore Palawan Basin in the Philippines.
The Hawkeye-1 exploration well was drilled to the planned total depth of 2,920m with the top reservoir intersected at 2,710m. Hydrocarbons were logged between 2,710m - 2,737m in reservoir of variable quality. The upper reservoir section between 2,710m - 2,724m is interpreted to be gas bearing at sub-commercial volumes.
The second, poorer quality reservoir (2,724m - 2,737m) provided evidence of fluorescence, usually an indicator of liquid hydrocarbons, from hand cutting returns. Unfortunately, even if confirmed oil bearing, the combination of poor reservoir and low net pay would render the potential oil leg sub-commercial. Below 2,737m water was inferred from log observations in a reservoir sequence of good quality.