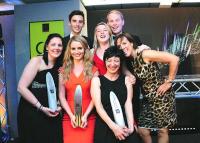 Reflex Marine is celebrating a successful year after expanding into new markets and growing its global team by 300%.
The firm was recently named the winning company in three categories at the Cornwall Business Awards, where the company was established. It picked up Employer of the Year and Best International Business during the evening before being awarded the prestigious Winner of Winners Award.
Over the past 12 months Reflex Marine has opened new offices in Houston and Bristol, adding an additional eight new staff at these bases, as well as enhancing its workforce at the company headquarters in Truro.