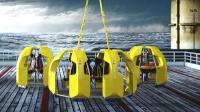 Reflex Marine is continuing to strive towards excellence in safety by being awarded with the Lifting Equipment Engineers Association (LEEA) development member status.
LEEA is the leading authoritative representative body for the lifting industry across the globe. Having surpassed the LEEA technical audit, the marine transfer company will benefit from access to LEEA's high quality training and qualifications, independent auditing and accreditations as well as expert technical advice and representation.
With the industry increasingly looking at improving safety practices, LEEA is a powerful voice for the lifting industry and is actively involved in the development of national and international standards and regulations.