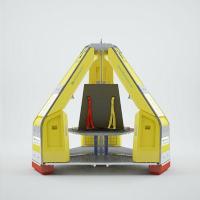 Reflex Marine has been granted approval by the Mexican Merchant Marines to sell its crane transfer device, the FROG-6, in Mexico.
The certification is a result of Reflex Marine working with the Mexican government's testing agency, the Centro de Normalizacion y Certificacion de Productos (CNCP) for over a year, as well as the national oil operator PEMEX with the help of its local partner GINEMEX. The FROG-6 was also exhibited at the Petroleum Exhibition and Conference of Mexico (PECOM) where it received a huge amount of attention from operators, crew and the media.
The current standard method of personnel transfer offshore in Mexico is by crane using traditional rope baskets. This product has a poor safety record, with the most recent fatality occurring in January last year. Now that the Merchant Marines – who have final authorisation over equipment operating in Mexican waters - have approved the FROG-6, Reflex Marine is hoping to increase the safety standards in the region.