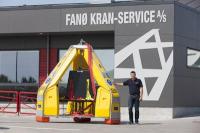 Reflex Marine continues to expand its extensive global network of Accredited Service Centres with its latest addition, Fano Kran-Service A/S (Fano Kran) located in Denmark.
Reflex Marine's global operations continue to grow with the company experiencing increasing demand for its crane transfer devices. The company now has a network of six Accredited Service Centres operating globally in Europe, Asia, North America, the Middle East and Australia, enabling Reflex Marine to provide high-quality expertise and first-class operational support to its clients worldwide.
Fano Kran's core business is the service and maintenance of offshore cranes which positions the company perfectly to offer operators comprehensive support for Reflex Marine's crane transfer devices.