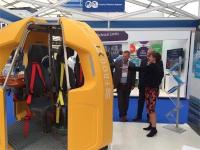 Reflex Marine will be exhibiting its FROG-XT transfer device range, with its advanced design and cutting edge technology, for the first time at Offshore Europe.
Having unveiled the prototype in at OE in 2013, Reflex Marine is really excited to show the finished product at this years' show. Attendees will be amongst the first to see and interact with the FROG-XT.
The company is best known for its transfer devices, the FROG and TORO and now, the FROG-XT. The company is involved with more than one million safe personnel transfers annually.
Philip Strong, CEO, said: "Reflex Marine is proud to have set new standards and expectations for the industry. Through changing the perspective of crew transfer from being seen as inherently high-risk, to being accepted as a manageable activity that can be performed safely and cost effectively, we can ensure continuity and safety in offshore operations. The FROG-XT is our latest development to support our mission of raising safety standards offshore."