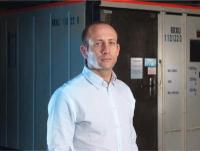 Aberdeen-based, Reftrade UK has seen record growth this year within the rental market for its fleet of refrigerated containers and temperature controlled units. The market leading specialist has seen rental sales increasing 33% from July 2014 to July 2015.
Based in Westhill Aberdeen, Reftrade UK is the only locally owned and operated supplier of refrigerated and temperature controlled containers which supply both the onshore and offshore energy sector with quality, bespoke Zoned and Safe Area units. The company's Aberdeen location allows for rapid and efficient dispatch of its refrigeration containers to clients operating in the North Sea.
Greg Spence, managing director of Reftrade UK said: "We are particularly pleased with the success and growth we have had in the rental market this year given the difficulties facing the oil and gas industry. I feel our team's belief in hard work, high operational standards, striving to exceed expectations and going the extra mile is working.