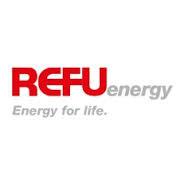 REFUlution – that is the theme of the REFUenergy stand, a business division of REFU Elektronik GmbH, at this year's Intersolar where the company's current (R)evolution will be in full focus.
Only one year after the market launch, REFUenergy has not only broadened its product portfolio, it has also expanded its range of expertise. Visitors to the stand will be greeted by the renowned storage solutions for industrial applications, the Plus X Award winner REFUtower, new hybrid power systems and solutions for the balancing energy market.
"We have made a conscious effort not to focus specifically on new products but to attach considerably more importance to the potential of existing product lines, such as the REFUrack range, and to make the most of these and develop them further," commented Dr. Armin Keinath, Head of REFUenergy, in particular with regard to the launch of the new transformerless REFUrack battery inverter with 100 kVA of power for MW balancing energy projects. He added: "With this approach, we wish to first and foremost meet the needs of offering expandable and future-oriented products." This philosophy is also to be found in the hybrid solutions that have already been added to the portfolio. For instance, the recently launched REFUhybrid – an ideal addition to diesel generators, and the REFUtower, which has been optimised for off-grid telecommunications applications and which pays for itself after one year.
At REFUenergy, the hybrid solutions are viewed in particular as a chance to play a part in the revolutionising of the diesel generator market. That's because the often needed downsizing of generators, the fuel saving issue and reduction of emissions is driven further forward by the combination of a generator and a hybrid solution. New opportunities are also offered to manufacturers and users as a result.