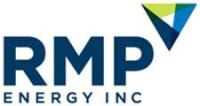 RMP Energy Inc. has achieved another record level of quarterly production, a further increase to its fiscal 2014 production.
As a result of favorable field operating conditions during the second quarter providing for minimal oil trucking restrictions, RMP achieved a new record level of production for the second quarter of 2014, with an average daily production level of approximately 12,400 boe/d, weighted 57% light oil and NGLs.
This represents a 34% increase over the preceding first quarter 2014 production of 9,229 boe/d and an 81% increase over the comparable second quarter 2013 production of 6,852 boe/d.