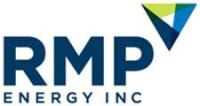 RMP Energy Inc. announce record average daily production for the first quarter of 2014 and increased fiscal 2014 production market guidance.
First Quarter 2014 Production Update
On March 1, 2014, RMP commissioned its expanded Ante Creek battery facility and commenced delivering light oil and associated natural gas into the downstream sales receipt point through its Ante Creek-to-Waskahigan pipeline. This infrastructure start-up has enabled the Company to achieve a record level of production in the first quarter of 2014, with an average daily production level of 9,229 boe/d, weighted 60% light oil and NGLs. This represents a 27% increase over the fourth quarter 2013 production of 7,266 boe/d. The Company expects to release its first quarter 2014 financial results at the close of business on May 14, 2014.