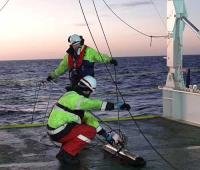 Next Geosolutions' 17-month project 220 kV A.C. Connections – West of Adlergrund, which performs marine surveys for cable route design and engineering in the western Baltic Sea, has been supported by RMS Submarine with resourcing solutions assistance.
The project consists of multiple 220 kV AC grid connections of the two offshore wind parks (OWP) Arkona Basin South-East and Wikinger, located in the western Baltic Sea off the north-eastern coast of Germany. The route corridors consist of 2 x 90km, one in field of 7km as well as additional anchorage areas requiring survey operations.
Next Geosolutions' workscope for its client Prysmian (end client 50 Hertz) has included nearshore and offshore multibeam, geophysical (SSS, SBP, mag), UXO (using the Katria Scanfish solution with 4 mag array), geotechnical (VC and PCPT) and ROV inspection operations – as well as beach landing topographic surveys.
Building upon existing relationships between Next Geosolutions and RMS senior management, Next Geosolutions – as a young, dynamic yet fast-growing marine survey entity – recognised the value added benefits of utilising the solutions of RMS to support this large project and increase its own resourcing network.
Working closely throughout and under Next Geosolutions full remit during 2015, RMS provided various services and solutions for the nearshore, offshore and office based workscope. These comprised consultancy (including technical solutions during tendering phase), ongoing technical support as required, stand in project management, various equipment and key asset resourcing including onshore office support and facilities, via its German contacts and relations.
RMS resourced the multiple nearshore and offshore vessel solutions along with integrated survey equipment, inspection ROV and CPT geotech equipment/consumables.
RMS provided numerous personnel throughout the six month phase of the project in 2015. These included office-based project manager and data processors, offshore party chiefs, surveyors, data processors, CAD operatives, survey and underwater engineers, geophysicists, geotechnical operators and engineers, ROV supervisors and pilot technicians.
During 2016's 11-month campaign, RMS has continued to support with technical aspects as required, key asset sourcing and the supply of offshore personnel.
Carlo Pinto, Next Geosolutions' sales and marketing director says, "This large scale project represents a milestone in our operations but also our relationship with RMS. We aim to provide our customers with high quality, cost-efficient solutions by leveraging in-house know-how, assets and resources and by applying a combination of state-of-the-art technology and innovation. To date, we worked very closely with RMS on several other projects and we are looking forward to strengthening this relationship further."
Roland Coomber, Technical Resourcing Manager for RMS Submarine, says, "RMS is rightly proud of its resourcing support solutions and close involvement with Next Geosolutions for such a large and prestigious marine survey project. Whilst our company's Anglo/German roots have clearly contributed to this relationship, our project resourcing model as a whole has been fully bought into by our client. Indeed Next Geosolutions' vision and own resourcefulness to integrate RMS's resource model to benefit its own clearly shows its forward thinking management style, differentiation and dynamic, fresh approach to marine survey and engineering solutions in this changing and challenging market."