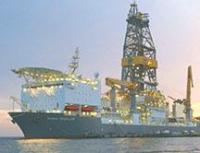 Rowan Companies plc says that its report of drilling rig status and contract information has been updated as of July 20, 2015.
Notable events in the current report include: •Rowan Relentless: Rig commenced operations with Freeport-McMoRan in the U.S. Gulf of Mexico on June 16, 2015. This completes Rowan's ultra-deepwater newbuild campaign in which all four drillships were delivered on budget and ahead of schedule. •Rowan Renaissance: Rig is currently mobilizing to the U.S. Gulf of Mexico from West Africa at a reduced day rate and is expected to commence operations in September 2015. •Rowan Reliance: Rig is currently drilling North Platte #3 for Cobalt after plugging and abandoning North Platte #2 on April 6, 2015. Rowan and Cobalt are working toward a resolution that may include certain days at zero or reduced day rate.
•Rowan Gorilla VII: Awarded a contract extension to December 2016 with Apache at a 2015-2016 blended day rate of $181,000 with a four-month priced option to follow at the same rate. •Rowan Gorilla III: Rig is expected to become available in mid-August 2015 due to early termination of the contract. Revenue for balance of contract term (January 2016) is expected to be recognized in 3Q 2015. •Rowan Middletown, Charles Rowan and Arch Rowan: Each rig was awarded contract extensions to August 2015 with Saudi Aramco at their current day rates. •Rowan Gorilla IV: Awarded a multiple-well contract with a total estimated duration of 90 days with Energy XXI at a day rate of $70,000. •Joe Douglas: Awarded a one-well contract estimated at 45 days to August 2015 with Rooster Energy at a day rate of $52,500. Additional revenue may be earned based on rig and well performance. Following the Rooster Energy contract, the rig will mobilize to Trinidad for BHP with operations expected to commence in October 2015. •Rowan Alaska and Rowan Juneau: The rigs have been retired from service as drilling units effective July 1, 2015. Rowan has entered into contracts for sale of the rigs with an expected closing by the end of July 2015. The sale agreements prohibit their future use as drilling units.
The Company continues to estimate planned out-of-service time for the second quarter and full-year of 2015 to range from 3% to 6% for its jack-ups and drillships, subject to fleet repositioning and market conditions.