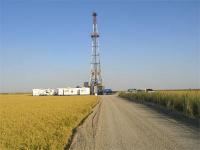 Royale Energy, Inc. announced the results of the completion of its Royale Ballinger #1 well in Runnels County, Texas. In May 2015, Royale Energy, Inc. entered into an agreement to drill and develop 2,299 acres in the producing Ballinger Oil Field.
To date, Royale has drilled two of three scheduled wells, on time and under budget. The first well, Royale Ballinger #1 has been completed in the Palo Pinto North formation at 3,400 ft. After initial stimulation, it tested at a rate of 80 barrels per day, at a 70% oil cut, which indicates sustained production rate of 15 barrels of oil a day.
'Establishing production from the Ballinger #1 adds a large base of proved reserves in our Texas Eastern shelf Permian Basin oil properties,' said Stephen Hosmer. '3P reserves could exceed 750,000 barrels of oil in estimated ultimate recoverable reserves over the entire field even at today's prices.'
Royale's Mosley #1 well, the second well, has reached total depth and completion testing of multiple zones will take place early next week. Drilling will commence on Royale's third well, Lynn #1, by August 31, 2015. Given the results of the first three wells, Royale could drill as many as 50 to 70 wells for full field development.