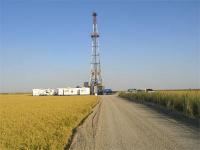 Royale Energy, Inc. has reached an agreement, with a major independent exploration and production company, to develop 1,300 acres in the Sacramento Basin Grimes Field.
This agreement allows Royale to drill up to three wells targeting a 3D seismically defined amplitude. The seismic event is clearly correlated to the nearby productive natural gas horizon and shows a sizable target with multiple well follow up potential.
Royale is pleased to enter into the first of what it believes to be a series of development opportunities with an industry participant of this caliber.
'I am excited to have the opportunity to establish a relationship of this nature,' said Stephen Hosmer, 'and look forward to the reserve and production growth for both of our companies.'