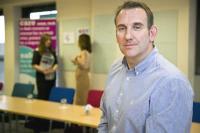 Optimus Seventh Generation has strengthened its safety portfolio by securing its first decommissioning contract in a six figure agreement with a major North Sea operator.
The four month contract, which began in May this year, will see Optimus Seventh Generation supply induction training and back to back health and safety advisors to support the safe decommissioning of a floating production, storage and offloading vessel in the North Sea.
Mark Walker, Client Partner at Optimus Seventh Generation said: "Having worked hard to develop our reputation as a major safety and behaviour consultancy to high hazard industries, the whole team is thrilled to secure our first decommissioning contract.
"Breaking into a new sector truly demonstrates that the company's growth plan is working, with decommissioning having always been a key target for us. The sector is full of opportunity in the current climate where collaboration is key between operators, the supply chain and, more pertinent than ever right now, specialist safety professionals."