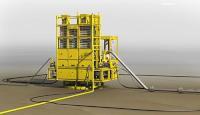 A recently signed agreement will see Saipem lead the industrialisation and commercialisation of SPRINGS®, an innovative subsea water treatment technology designed for deep water application, developed in collaboration with major oil and gas company Total and water treatment specialist company Veolia.
SPRINGS® (Subsea PRocess and INjection Gear for Seawater) is a nanofiltration-based sulphate removal unit designed for subsea use in deep water environments. Saipem has entered into an agreement with partners Total and Veolia for the co-ownership and exclusive commercialisation of the technology. A deepsea test was successfully completed last year to prove the validity of the process in a relevant environment offshore West Africa.
A cost effective alternative to conventional topsides water treatment and injection units, SPRINGS® moves the sulphate removal process subsea, thus enhancing the economics of oil recovery by:
Eliminating water injection sealines.
Producing savings in terms of topsides weight and deck space, freeing up vital topside space for production equipment.
Easing brownfield retrofits, especially on FPSOs.
Making distant, deep injection wells economical.
Saipem's Chief Executive Officer, Stefano Cao, comments, "The signing of the agreement is in line with Saipem's commitment to develop innovative technologies and deploy its capabilities in the subsea environment with a view to reducing Clients' overall costs and enabling new business opportunities."