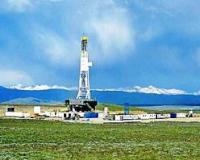 The Blackdog well drilled to the kick off point at 10,768 feet, continued to drill the curve, and landed in the Middle Bakken at 11,691 feet measured depth, 11,341 feet true vertical depth. 7' casing was then run and cemented at this depth. Preparations are currently being made to begin drilling the 6 inch lateral. The frac of this well is tentatively scheduled for December 15th.
This well will be a middle Bakken lateral and is the infill location between the Rodney 1-14H well (SSN WI 27.18%) and the Sail and Anchor 1-13-14HBK well (SSN WI 25.03%).
Coopers 2-15-14HBK (SSN WI 27.7%),
The 22 stage plug and perf stimulation treatment is expected to commence on December 2nd. Over the weekend, the frac equipment was set up on location and the sand was delivered to the site.