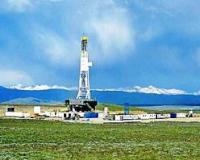 Currently the 6 inch lateral portion of the well is being drilled at a depth of 17,906 feet into the Middle Bakken. The forward plan is to drill the Blackdog to a total depth of 19,987 feet.
This well will be a middle Bakken lateral and is the infill location between the Rodney 1-14H well (SSN WI 27.18%) and the Sail and Anchor 1-13-14HBK well (SSN WI 25.03%).
Frac operations in the Blackdog well are expected to take place following the Christmas Holiday.
Coopers 2-15-14HBK (SSN WI 27.7%),
Fracture stimulation operations on the Coopers well finished on December 11th with the placement of 2.7 million pounds of proppant over 22 stages in the 6,393 foot lateral that was drilled in the Middle Bakken.