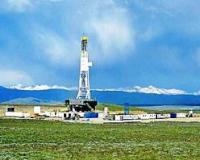 The Blackdog well successfully set and cemented the 7 inch casing in the Middle Bakken at 11,691 feet measured depth, 11,341 feet true vertical depth. Currently the 6 inch lateral portion of the well is being drilled at a depth of 15,258 feet. The forward plan is to drill the Blackdog to a total depth of 19,987 feet.
This well will be a middle Bakken lateral and is the infill location between the Rodney 1-14H well (SSN WI 27.18%) and the Sail and Anchor 1-13-14HBK well (SSN WI 25.03%).
Coopers 2-15-14HBK (SSN WI 27.7%),
The 22 stage plug and perf stimulation treatment commenced on December 3rd as planned. Currently eleven stages of the frac have been completed as of December 9th. Operations have been delayed due to extremely cold weather and the subsequent effect on operations including frac line sand manifolds being frozen. After completion of the Coopers well, the forward plan is to fracture stimulate the Tooheys, which will be a 24 stage sliding sleeve configuration.