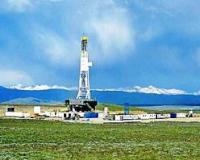 Frac operations in the Blackdog well are expected to commence on January 22nd. Following the completion of that stimulation treatment, a coil tubing unit will be used to drill out the frac plugs in both the Blackdog and Sail and Anchor 1-13-14HBK wells (SSN WI 25.03%). Both wells are located on the Tofte 1 pad, which is on the southern boundary of Section 13 within the North Stockyard project. Sail and Anchor was fracced in September 2013 and has been flowed back previously, though that prior flow back is believed to have been restricted by the frac plugs.
Little Creature 3-15-14HBK (SSN WI 27.7%),
The 35 stage cemented liner fracture stimulation has been completed. The flow back of this well is expected to commence around January 20th, following the completion of the surface production facilities on the Tofte 2 pad, where this well is located which is on the northern boundary of Section 15, within the North Stockyard project.