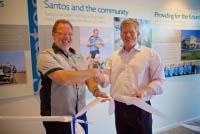 Inpex Corporation (Inpex), through its wholly-owned subsidiary, Inpex Offshore Northwest Sabah, Ltd. (Inpex Sabah), has reached an agreement to transfer a 25 percent participating interest in the deepwater Block S (the Block) to Santos, a major Australian oil and gas exploration and production company.
The Block is an offshore block located in East Malaysia, where Inpex Sabah conducts exploration activities as an operator.
The Block covers an area of 221 square miles (574 square kilometers) with a water depth ranging from 656 feet (200 meters) to 4,921 feet (1,500 meters). The Block lies in the Sabah basin where large reserves of oil and natural gas, such as the Kikeh and the Gumusut-Kakap oil fields were discovered.