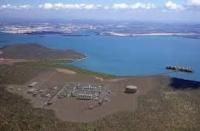 Santos GLNG has continued to make strong progress towards first LNG in 2015, completing the first of its three major gas processing hubs in its Queensland gas fields.
The hub, located in the Fairview field north of Roma, is now fully operational, with commissioning progressing well at Santos GLNG's two other major processing hubs.
The milestone follows delivery of first gas into the Santos GLNG pipeline last month and the completion of hydrotesting of the second LNG storage tank on Curtis Island.
Santos Vice President Queensland Trevor Brown said the significant CSG-to-LNG industry investment now underway would drive the Queensland economy over the long-term.