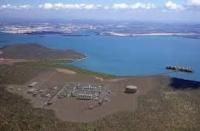 Drillsearch Energy Limited announce the second wet gas discovery made by its PEL 513 joint venture with Santos Limited (Drillsearch 40%, Santos 60% and Operator). The Yarowinnie South-1 well was drilled to a total depth of 3,142 metres as an exploration well, southwest of the Varanus South-1 discovery announced last month.
Drillsearch's preliminary interpretation of wireline logs has confirmed an aggregate best estimate of almost 15 metres of net gas pay over several intervals in the Patchawarra Formation totalling a gross Patchawarra interval of 410 metres. The well has been cased and suspended as a futurewel producer.
Year-to-date, Drillsearch has drilled 20 exploration, appraisal and development wells1 as part of its FY2015 work program, with Yarowinnie South-1 the 15th successful well in the campaign and the fifth new oil or wet gas discovery for the year.