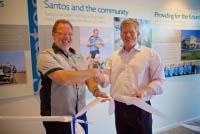 Santos announced company records for sales revenue in both the quarter ($1.1 billion) and the full year ($4 billion), reflecting the successful ramp-up of production from the PNG LNG project as well as higher Cooper Basin production.
Fourth quarter production of 15.1 mmboe - 15% higher than the corresponding quarter - brought full-year production to 54.1 mmboe. This was a 6 per cent increase on the previous year and within the company's guidance range of 53-55 mmboe.
'Notwithstanding the fall in oil prices, Santos has delivered growth in full-year and quarterly production, and record sales revenue,' Santos Managing Director and Chief Executive Officer David Knox said.