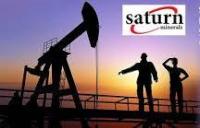 Saturn Minerals Inc. says that the Saskatchewan Ministry of the Economy has granted approval to the Company for one Red River or Deadwood Formation oil well, at the Company's Bannock Creek property, located at 9-5-44-8 W2M.
The approval was granted to Saturn by a Minister's Order dated September 17, 2015, correcting the Order initially issued to Jaguar Resources Inc., on July 7, 2015. Based on the Order the Company is anticipating receipt of a drilling license for a new well to be drilled adjacent to the original well drilled by the Company in May of 2015.
Saturn identified the well location in a 2D seismic program, which was designed to identify and confirm closure for potential light oil traps in the stacked Red River, Winnipeg and Deadwood Formations of the Northeastern Williston Basin. The data confirmed the anticlinal four-way closure of the drillable prospect at the Company's 120,000 acre Bannock Creek property.