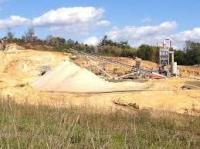 Select Sands Corp has appointed Arnold Tenney as a Chairman of the Board of Directors.
Mr. Tenney has been the Chairman and a director of Tribute Pharmaceuticals since April 29, 2004. Mr. Tenney was a financial consultant at Devine Entertainment Corporation, a children and family film production and development company from 2002 to 2011.
Prior to his position at Devine, Mr. Tenney was Chief Executive Officer of ARC International Corporation from 1978 to 2000. ARC International Corporation was a developer of indoor ice arenas and tennis clubs, as well as an investment company involved in entertainment and cable television. Mr. Tenney was a director and Chairman of the Board of Cabletel Communications from 1985 to 2000, which was a leading supplier of broadband equipment to the cable television industry.
'I am proud to welcome such an experienced industry professional as Arnold Tenney to chair the Select Sands Board,' said Rasool Mohammad, President & CEO. 'Mr. Tenney brings extensive expertise in the investment community and business acumen to Select Sands.'
Mr. Tenney was a director of Ballantyne of Omaha, Inc. from 1988 to 2000 and served as Chairman of the Board from 1992 to 2000. Ballantyne of Omaha, Inc. was a leading manufacturer of commercial motion picture projection equipment. Mr. Tenney served as a director for Phillip Services Inc., a Canadian metal recycling company, from 1998 to 2000. He served in such capacity as a representative of Mr. Carl Icahn.