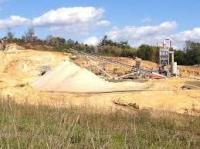 Select Sands Corp has appointed Zig Vitols as Chief Operations Officer (C.O.O.) of the Company.
Mr. Vitols, a resident in Houston, Texas, has served as the President, Mid-South Division, of Martin Marietta Material, Inc. Martin Marietta, a U.S.-based company included in the S&P 500 Index, is a leading supplier of aggregates and heavy building materials, with operations spanning 32 states, Canada, and the Caribbean. Mr. Vitols worked as the Northeast Regional Manager for W. R. GRACE & Co, a publicly traded company which produces specialty chemicals and materials and operates in over 40 countries. Mr. Vitols has a Masters of International Business (MBA) from Heriot Watt University, Edinburgh, Scotland.
As C.O.O., Mr. Vitols will be responsible for planning the Company's rail and transportation distribution network, managing its logistics and distribution functions, optimizing operational costs, providing a major role in business development including the negotiations of contracts, and generally assisting the Company to obtain and increase market share and help advance the Company's industrial sand project in Arkansas. Mr. Vitols will remain a member of the Select Sands' Board of Directors.