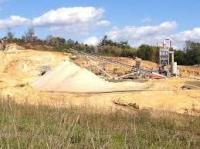 Select Sands Corp. has received subscriptions for an aggregate of 12,512,500 units (Units) for aggregate gross proceeds of $5.005 million pursuant to its non-brokered private placement announced July 15, 2015.
Each Unit will be sold at a price of $0.40 and will be comprised of one common share of the Company and one-half of a share purchase warrant, with each whole warrant entitling the holder to purchase a further common share of the Company at a price of $0.60 for a period of 3 years after closing. The Company plans to immediately seek TSXV final approval and proceed to close the offering.
"These funds will enable us to complete the purchase of our Sandtown property, begin clearing the property to commence run of mine test production, and drill the remaining 60% of the property," commented Select Sands CEO Rasool Mohammad. "Current industrial market demand as well as oil-and gas market demand is increasing for our high-purity finer-mesh industrial-silica products."