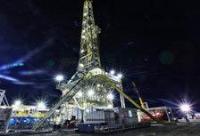 Serinus Energy Inc. says that the Winstar-12bis (WIN-12bis) development well has commenced drilling.
WIN-12bis is located in the eastern portion of the Sabria Field in central Tunisia. The planned total depth is 3,900 metres and the well is expected to take 63 days to drill. WIN-12bis is the first of a 2 well drilling program by the Company in the Sabria Field. The rig will move to the second location, Winstar-13 (WIN-13), immediately after finishing WIN-12bis.
The Sabria Field is a very large oil accumulation, with 347 MMBbl of Original Oil in Place(1) (OOIP) of which 280 MMBbl and 67 MMBbl are associated with assigned Reserves and Contingent Resources, respectively.