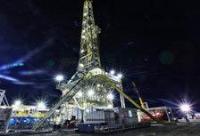 Serinus Energy Inc. has entered into a contract with Tacrom Drilling SRL, which will provide its Rig #3 for the program. The first well, Moftinu-1001, is expected to spud on or about November 8th, pending the rig's release from its current job. Moftinu-1001 will be followed immediately by Moftinu-1002bis.
The two wells are expected to take approximately 45 days in aggregate to drill and case, including time for the rig move between the two locations. Each will test seismically-defined gas prospects at depths of approximately 1,800 - 2,000 metres. Pending success, completion and testing of both wells is anticipated during Q1 2015. The wells are operated by Winstar Satu Mare SRL, a wholly-owned subsidiary of Serinus.
The Satu Mare licence covers 765,000 acres in northwest Romania bordering Hungary, in which Winstar Satu Mare holds a 60% working interest. The concession contains a significant number of oil and gas tests including the Santau oil pool, and the Company has developed over 50 leads and prospects thereon.