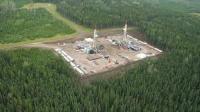 Seven Generations Energy Ltd. (7G) plans to restart normal liquids-rich natural gas shipments on Alliance Pipeline on Thursday, August 13, 2015.
Seven Generations has started to inject and sell initial natural gas volumes into Alliance as part of a group of shippers who are contributing to the operational linepack that fills the pipeline and prepares it for normal service.
'We used this downtime to conduct maintenance and advance the connection of the new Lator 2 plant to the existing Lator 1 plant, work that would have required a shutdown later in August. With that work now complete, we are preparing to resume normal production from our Kakwa River Project on Thursday,' said Marty Proctor, 7G's President and Chief Operating Officer.
'This event resulted in a short-term deferral of production. We continue to expect to produce to our 2015 guidance of 55,000 - 60,000 barrels of oil equivalent per day,' Proctor said.