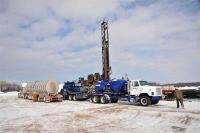 Solo is pleased to provide an update on its assets in Tanzania which are operated by Aminex plc.
Neil Ritson, Solo's Chairman, commented,'Considerable progress has been made recently in Tanzania and we expect to have news of both commercial gas sales at Kiliwani North and appraisal drilling in the Ntorya gas discovery shortly. The imminent commencement of gas sales at Kiliwani North represents our first revenue generating investment in Africa and is eagerly awaited by the Company and its shareholders.'
Kiliwani North
The Kiliwani North-1 gas well, which tested at 40 mmscfd, has been completed and is now ready to produce. Initial gas production will enable the pipeline operator to pressure-test the short spur line between the wellhead and the new gas plant with gas sales expected in third quarter 2015. Following an engineering review by the operator, it is anticipated that a sustained production rate of up to 30 mmscfd can be obtained, which is higher than the previously planned 20 mmscfd and this will optimise the economics and the life of the reservoir.