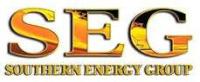 Southern Energy Group, Inc. (SEG) has acquired the JT Fields Berry Lease located in Caldwell County, TX. The JT Fields-Berry Lease will be the recipient of a multi-well re-stimulation and secondary recovery project for the Austin Chalk reservoir consisting of 6 wells.
The subject lease, located in the Luling-Branyon oil field, is ideally located along the up-thrown side of the Luling-Branyon Fault, thereby increasing the productive potential of the multiple reservoirs and maximizing per well production.
Southern Energy Group, Inc. is engaged in the oil and gas business, with operations located primarily in Texas. The Company's ultimate strategic focus is the development of oil and natural gas properties and production of its reserves.