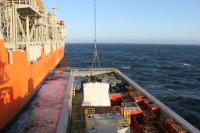 Sparrows Group and Norwegian firm OptiLift have formed a strategic partnership to deliver cutting-edge robot vision laser technology which will dramatically improve the up-time of lifting operations.
Traditionally decisions about lifting in harsh weather are based on significant wave height but OptiLift's Motion Reporter collects real time vessel movements which identify the actual wave height on deck which often varies by several metres on different parts of the vessel.
Having possession of this important data means crews can make informed decisions about safely continuing lifting operations and avoiding unnecessary costly delays.