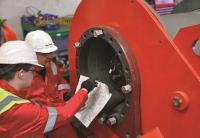 Sparrows Group has signed a 3-year contract with Total to supply crane maintenance and engineering services at four of the operator's assets in Angola.
The agreement will see the company implement planned maintenance routines as well as delivering all major preventative maintenance, and associated engineering for Total across its Floating Production Storage Offloading (FPSO) units in Block 17. A total of 14 cranes will be serviced as part of the work scope.
Sparrows has provided the services since 2010 where prior to that they delivered ad-hoc maintenance and design scopes related to the field for a number of years. The new deal will protect existing jobs in both Aberdeen and Angola as the company's bases in both regions will work in collaboration on the project.
The maintenance will cover a total of four fields situated within the block including the Girassol, Dalia, Pazflor and CLOV FPSOs.
With facilities in Talatona and Malonga, Angola is the hub of Sparrows operations in Africa.
Stewart Mitchell, chief executive officer at Sparrows, says, "Having established a strong track record with Total focussed on safety and reliability, the contract is testament to the high quality services provided by our teams in Aberdeen and Angola and we look forward to continuing this partnership for years to come. Angola continues to be an area of growth for Sparrows. We are experiencing a strong demand in Africa for companies that can demonstrate high quality knowledge and skills with a focus on reliability."
Block 17 currently produces around 600,000 barrels of oil per day, a third of Angola's overall output.