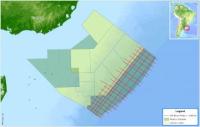 Spectrum has commenced a 3,600 km Multi-Client 2D seismic survey offshore Uruguay.
The new acquisition program will infill Spectrum's survey acquired in 2013 and cover open, ultra deep water acreage in the Oriental del Plata and Pelotas basins, anticipating the third licensing round in Uruguay expected to be held in 2015.
The data is being collected by the vessel BGP Challenger and will be processed in Spectrum's processing center in Houston. PreSTM and PreSDM data will be available early in Q2 2015.
Richie Miller, EVP Multi-Client North & South America, comments: "Continuing on with our strong relationship with ANCAP, Spectrum will be providing new long-offset data for the upcoming Round 3 in 2015. Following on from the successful 2013 survey, we are confident that this infill project will be well received by industry and provide the needed information for a successful round next year."