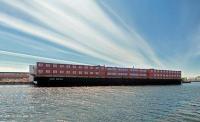 Bibby Maritime have confirmed that Bibby Bergen will be moving to Kvaerner Stord's yard in Norway to start a four month charter, commencing 30th April 2014.
The charter reinforces a continuing relationship with the yard, which has previously seen Bibby Maritime's accommodation vessel 'Bibby Challenge' chartered on a twelve month contract back in 2007.
Having completed an interior refurbishment in 2012, Bibby Bergen offers 180 en suite bedrooms alongside a kitchen and restaurant, lounges, games rooms and laundry facilities.
The vessel's exterior is similar to a wooden 'land camp' design, which is commonly seen across Shipyards in Scandinavia.
"The interest in floating accommodation has grown significantly, and we have seen a huge increase in demand for our vessels recently" said Jon Osborne, Managing Director of Bibby Maritime.
"We have undertaken a vast fleet refurbishment programme over the past few years, and we are now able to meet the demands of most projects" explained Mr Osborne. "We are also receiving increasing numbers of requests for projects in very remote locations with minimal surrounding infrastructure, and have invested in our experienced technical and operations team to manage new projects".