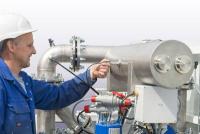 Cathelco have received Alternate Management Systems (AMS) acceptance from the U.S. Coast Guard for their ballast water treatment system.
AMS acceptance is a temporary designation given to ballast water treatment systems approved by a foreign administration. It enables BWT systems to be used on vessels for a period of up to five years, while the treatment system undergoes approval testing to Coast Guard standards.
"This is an important milestone in achieving full U.S. Coastguard Type Approval. It means that vessels fitted with our system can go anywhere in the world without restriction", said Peter Smith, sales director of Cathelco Ltd.
The Cathelco system received IMO Type Approval earlier this year and is based on a combination of filtration and UV technology.
"We are one of the few BWT system manufacturers using UV technology that has no restrictions on the salinities in which ships can operate in US waters. Our system has been approved and accepted to work in marine, brackish and fresh water, allowing vessels to enter the Great Lakes and other inland waterways", Mr Smith explained.
As one of the new generation of BWT systems tested to the latest and more rigorous IMO Approval standards, the Cathelco system can operate effectively in the most challenging water conditions.
The AMS approval recognises that the system will continue to disinfect heavily silted seawater where UV light transmittance values are as low as 45% (75% being the value for normal seawater) at 190 Joules per square metre.
"All of these factors, combined with the stringent IMO test procedures, demonstrate our commitment to future proofing the system, so that owners can have confidence in their BWTS selection", Mr Smith concluded.
IMO Type Approval for the system was attained in April from BSH and the Flag Administration of Germany. It was preceded by land based testing at the NIOZ facility in Holland and shipboard testing on the M.V. Eddystone, a ro-ro vessel owned by Foreland Shipping.
Although the Cathelco BWT system is based on well established processes - a combination of filtration and UV technology – it has a number of innovative features which set it apart from its competitors. One of the most important features is that it is completely chemical free including the cleaning method.
Cathelco BWT units are available with capacities from 34m3/hr to 2,400m3/hr.