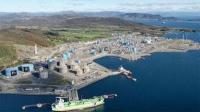 A total of 101 billion standard cubic metres (scm) of gas was transported in 2014 within Gassco's operatorship from the Norwegian continental shelf (NCS) to terminals in Germany, Belgium, France and the UK.
"Norwegian gas makes a substantial contribution to energy supply in major European countries, and these exports remain at a high and stable level characterised by very good regularity," comments Brian Bjordal, chief executive of Gassco.
Dry gas deliveries from Norway declined slightly in 2014, and were down by 1.5 billion scm compared with the year before.Gassco's object is to operate the integrated transport system for Norwegian gas in a way which ensures the highest possible security of supply.
An average regularity of no less than 99.92 per cent was achieved for the transport system in 2014, compared with 99.68 per cent the year before.Deliveries of natural gas liquids (NGL) and condensate from the west Norwegian process plants at Kårstø and Kollsnes (via Vestprosess) rose to 8 106 950 tonnes, as against 7 285 460 tonnes in 2013.