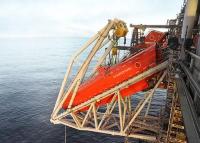 Statoil has awarded Harding a prestigious contract for delivery of the nine free-fall lifeboats needed for phase 1 of the Johan Sverdrup North Sea development.
"This order is a solid validation of the quality of our products, the competency and commitment demonstrated by all our employees, and the effects of the significant restructuring which we have implemented in order to strengthen our competitive edge in a tough market," commented Styrk Bekkenes, the happy and proud Harding CEO, after the contract signing on July 14th.
The contract comprises nine FF1200- lifeboats, with nine corresponding LA 1200 SU davits, and constitutes a relatively large order on Harding's scale. The nine lifesaving systems will be delivered during 2017, and will then be installed on the living quarters platform for Johan Sverdrup. Both the lifeboats and the davit system have been developed by Harding in Norway. The lifeboats will be built in Norway, while the davits will be assembled at one of Harding's overseas locations.