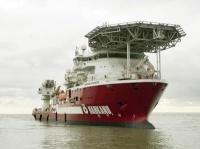 GLOBAL inspection, repair, maintenance (IRM) and light construction company Harkand has been chosen to deliver installation work to support a leading US headquartered operator with its existing drilling campaign in the Nevis South Field in the North Sea.
The project will see Harkand provide project management and engineering services and deploy its personnel and one of its dive support vessels (the Harkand Da Vinci or Harkand Atlantis) to install new subsea equipment for North Sea subsidiary Apache Beryl I Limited (Apache). The scope of work has been called off against the master service agreement (MSA) the IRM firm signed with the operator in 2014.
Harkand previously performed tie-in work in 2015 for the Nevis S67 well at the Beryl field and a Beryl midline disconnect scope under the contract. The company also supported Apache with phase 1 of the Aviat development which included preparation work and platform tie-ins of the newly installed Aviat flowline.
Harkand Europe managing director David Kerr said: "In this low barrel price climate, our strong reputation for quality and operational efficiency is proving to be particularly appealing to operators in the region.
"Being selected for Apache's latest campaign builds on the strong relationship we have established with this key operator over several years. We are committed to delivering the same high standards of safety, quality work and performance for them on this project and in the most efficient manner."