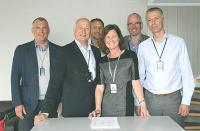 Work on upgrading two steam boilers at Kårstø was recently completed with good results, and has been carried out at a plant in full operation.
The aim has been to extend the commercial life of these facilities, which can each produce 70 tonnes of steam per hour, and to improve their availability.
In operation since Statpipe became operational in 1985, the two boilers are now totally refurbished. Their control systems, valves and instrumentation have been replaced.
Carrying out this work in a fully operational plant has demonstrated the ability to find solutions for efficient project execution which poses no threat to safety.
The decision to go ahead with the project was taken in the autumn of 2011, with a lengthy implementation chosen to minimise disruption to Kårstø's daily operation.
Although the work was demanding, the final result shows it has been successful.
"Carrying out an upgrading project like this is an extensive job," says Alvin Hansen, vice president for process plants at Gassco.
"So it's gratifying to see that it's been implemented without serious incidents, dropped objects or lost production.
"A joint commitment by the project and operations organisations has yielded very good health, safety and environmental results, as well as a good outcome for costs."
Many people deserve praise for the job done to ensure good and safe execution of the work, Hansen adds.
"With good planning and follow-up, the experienced project team at Kårstø has been very significant for productivity, costs and HSE result.
"Collaboration between Statoil, as the technical service provider, and Gassco as operator has not least been very good along the way."
Main contractor Aibel has worked purposefully to draw on experiece and lessons learned from work on the first boiler. This was completed in 2014.
"As operator, we are very satisfied with the way this project has been executed," says Hansen.
"The steam boilers are now ready to begin another 30 years of generating steam."
The final cost of the project came to NOK 600 million, substantially below the originally budget.