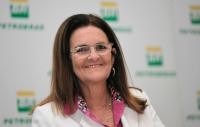 Petrobras CEO Maria das Graças Silva Foster has announced winner of the Global Pacific & Partners Award in the Offshore/Deepwater Player category at the 20th Latin Oil Week, an event held at the Copacabana Palace Hotel in Rio de Janeiro. Awards were made to the most outstanding Latin American companies in their sectors to celebrate Global Pacific & Partners' 20-year presence in Brazil. GP&P is an international consultancy with over 30 years of experience in oil and gas, and organizes Latin Oil Weeks and similar conferences in countries across Africa, Asia, the Middle East and Europe.
Graça Foster also received an honorable mention as a Patron of the Global Women Petroleum & Energy Club, an association created to bring together high-profile women in the oil and gas sector throughout the world. Petrobras' Director of Exploration and Production, José Formigli, was present at the awards ceremony. 'Petrobras thanks you very much for this additional award, which will encourage us to continue with our efforts and to believe more in ourselves, in the people who have worked with us and especially in our country. I am also very proud of the honorable mention,' said Graça Foster during a speech in the event's opening session.
She made a point of stressing the growth in Petrobras' output for seven consecutive months. 'The August figures aren't yet finalized, but we are continuing to grow. We have hit a new record in the pre-salt, and yesterday, when we opened the newspapers, we saw information from the National Oil, Natural Gas and Biofuels Agency reporting another record in oil and gas production in the country. In all, 2.82 million barrels of oil equivalent per day were produced in July, and August was certainly much better. All this makes us very enthusiastic. Petrobras is enthusiastic about the present and strongly believes in the future of the Brazilian oil industry,' she said.