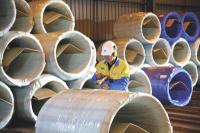 Tata Steel has successfully expanded on its revolutionary new range of welded linepipe it was revealed today. The announcement came as the company prepares to attend Offshore Europe, where it is also celebrating 21 years and one million tonnes of steel in the North Sea.
Earlier this summer Tata Steel became the first to successfully deliver double submerged arc welded longitudinal (DSAWL) pipe through reeling method in the North Sea. The size range extension has expanded the range further, with the company successfully producing a range of new X65 sizes, with a wall thickness of up to 38.1 millimeters and a diameter up to 559 millimeters.
In doing so, the company can now offer traditionally seamless pipe sizes in a welded form, the benefits of which include a decreased lead time in customer orders and improved fit up and weldability which therefore reduces time and project costs
The new products have already been successfully deployed in the North Sea and in deep water projects in the Gulf of Mexico.
Martin Connelly, technical manager, Tata Steel said: "This development marks another huge success for Tata Steel and for our customers. Our team has worked extremely hard to develop this new generation of welded pipe which will contribute to a lower cost of operation and ownership of assets for our customers.
"We have invested heavily in research, development and innovation and with the aid of our state of the art finite element (FE) modelling and tooling programme this project has come to fruition. A recent installation of 140km of 457mm Outside Dimension x 28.6mm Wall Thickness within deep water off the Gulf of Mexico was produced in such a way that it was able to meet the manufactured requirements of DN OS-F101 should a reel installation been considered."